Basic System Features
Customer Relationship Management (CRM)
Aged Accounts Receivable
Complete Inventory Tracking with Full Purchase Orders
Reservation System
Gift Card Tracking
Unlimited Products, Departments, and Report Categories
Unlimited Discounts
Unlimited Domestic Curencies
Unlimited Foreign Currencies offering change in either foreign or domestic funds
7 Tax Rates including VAT and Tax on Tax
Over 300 Built In Reports
Float Maintence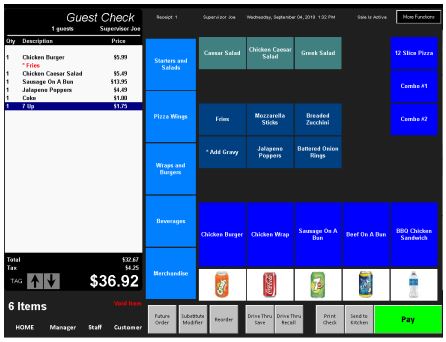 Integrated Devices
Credit and Debit Card (EMV)
Pay At The Table
Customer LCD or Pole Display Ready
Weigh Scale Interface
Barcode Label Printers for Product Tags, Shelf Talkers, and Shipping Labels
Invoicing Module
For those customers who make sales through the back of the house as well as the front, UniversalPOS again is the solution. Our integrated Invoicing Module allows for back office sales using a format similar to that offered by most major accounting packages.
Process sales and generate , print & email invoices
Receive payments on account by specific invoice
Print aged accounts receivables (current, 30,60, 90)
What We Provide
Full installation, and training
Software, hardware and full service contacts to those customers that need their system running at 100%
Screen layout and design based on your menu
Replacement or service of existing hardware
Software and hardware upgrades
One year full service warranty on new installs
Retail Features
Park sales
Age verification system for cigarette and liquor sales
Search for products by image
SMARTSCAN to quickly create your products at the point of sale
Product inquiry mode
15 tier or mix n match pricing
Integrated barcode label printing and designer
Gift receipts & emailed receipts
Integrated credit & debit card processing
Integrated gift card processing
Integrated in counters scale and bar code scanning integration
Full purchase orders & inventory control
Full back end invoicing module
Aged accounts receivable
Inventory Control
Control over your inventory is key in maintaining a healthy bottom line and good cash flow in any business. The universalPOS system monitors your purchases and your sales through our point of sale and our stock ordering processes.
Purchase orders
Physical inventory adjustments
Quick stock receive
Three suppliers for each product
Automatic sale pricing
Mix & match or six tier pricing
Track stock through 15 warehouses
Recipe tracking
Portable inventory data collector ready
Size matrix
Re-order minimum & maximums
Seasonal inventory
Integrated label designer to print labels and barcodes
Shelf talkers